Inspection unit digital camera adapter DS-X
A variety of DS-X based combination inspection units are possible. All C-mount screw lenses can be attached. Also, the use of commercially available digital cameras can help to keep costs down and is very convenient. Every inspection room or workplace should have one of these inspection units.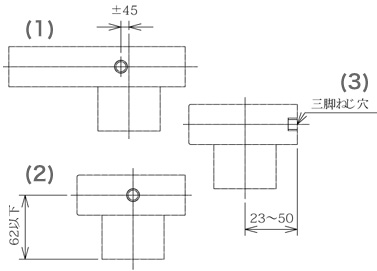 External spec. of digital camera with tripod screw hole that can be mounted by bracket.
(1) Tripod screw hole and lens center horizontal position.
(2) Maximum reach of tripod screw hole and lens.
(3) Tripod screw hole and lens vertical center height.
* Some digital still cameras have a lens position that is different from the external center (cylindrical).