Easily digitizing microphotographs with "Digital Catch" for sharing via emails and presentations~ Kanesuzu Precision Co., Ltd. ~
Digital CatchDigital Catch
Kanesuzu Precision specializes in turnery of precision parts using precision automatic lathes and more particularly in the machining of parts with small diameters. They use Digital Catch, a tool for digitizing microscope images which can then be sent by digital transmission (link: https://www.miruc.co.jp/en/product/digital_catch/). We asked the company's President about the process that led to their introduction of Digital Catch.
■Challenges faced by Kanesuzu Precision

They wanted to easily convert into data the images they see through microscopes
The diameter of their microscopes did not match that of Digital Catch!

◎Solved with the following!

We used the WiFi model of Digital Catch and a special mount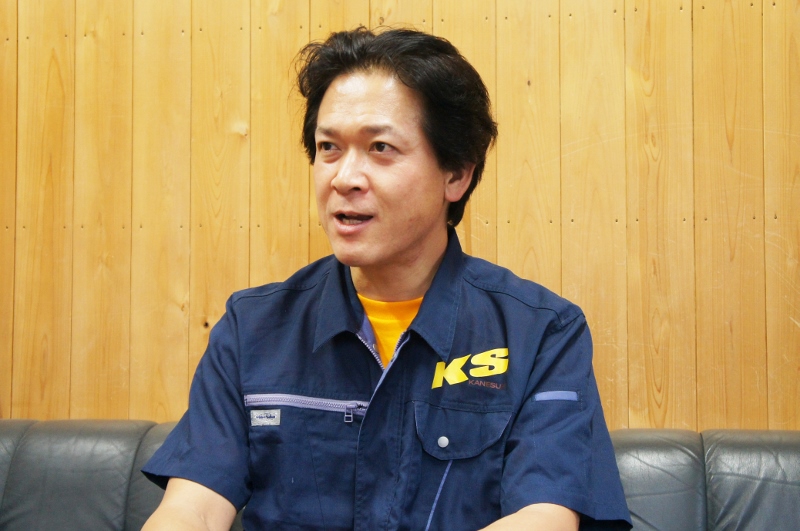 Thinking "This will work out!", decided to introduce Digital Catch…
President Suzuki: Our company specializes in the machining of small parts with diameter of 1.0 to 10 mm. We mass produce light current parts used in digital cameras, hard disks, audio systems, peripheral components of automobiles and the like. At all times, we have four or five employees working in our factory doing inspection work with microscopes.
The first time I saw Digital Catch was at a tradeshow MIRUC OPTICAL CO., LTD. was exhibiting. Upon seeing the extremely clear images, I immediately thought "I want this!" The price was affordable and they said that it can be mounted on the microscopes of leading manufacturers. I decided that if we could use this on our microscopes, then we should definitely use it.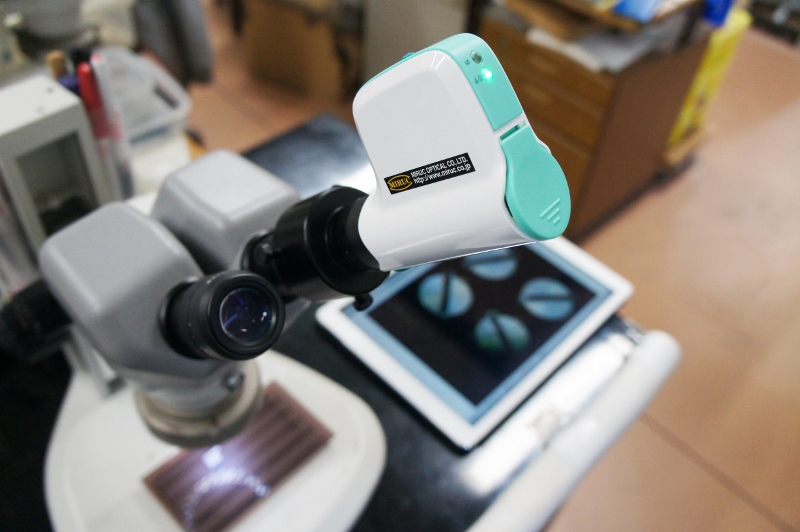 I was told by President Muramatsu to measure the diameter of the specified location and send in this information. Right away, I made the measurement and sent in the data, but they told me that unfortunately mounting would not be possible. While it is a fact that Digital Catch can be used with other companies' products, some high-end models use eyepieces with a larger diameter, which makes mounting impossible.
Mounting success with a specially manufactured mount!
As we had just about given up, President Muramatsu contacted us, saying that they would manufacture a prototype mount, so could we please wait. A few days later, we received the prototype and when we tried to mount it on the microscopes at our factory, the fit was perfect. We really appreciated their speedy customization support.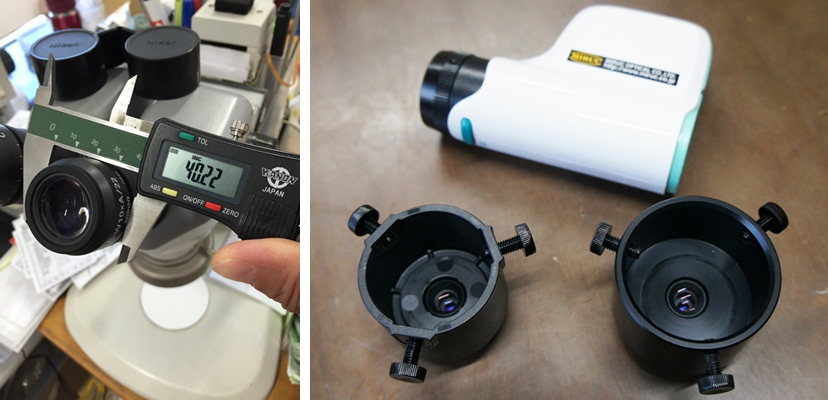 The main usage purpose is taking photographs. We often receive inquiries asking us to send microphotographs as email attachments. Prior to purchasing Digital Catch, we would take photographs by simply holding a digital camera to the eyepiece since we did not have any dedicated shooting equipment.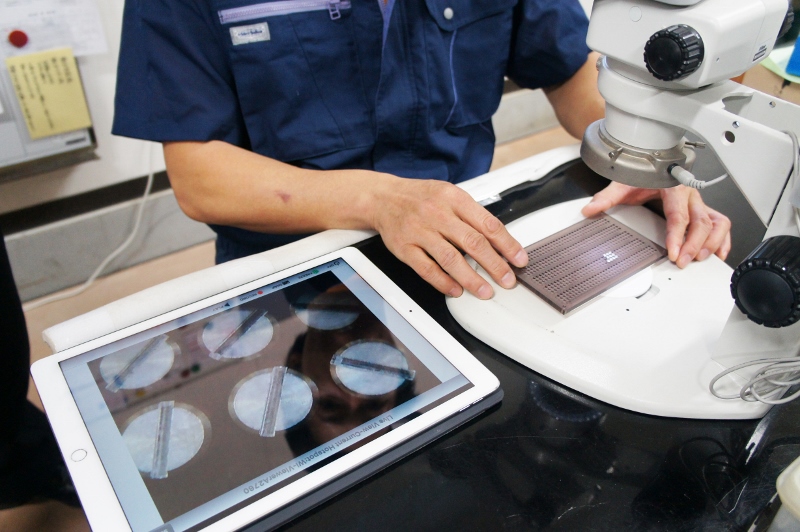 This was highly unpractical. Focusing was difficult, a portion of the image would be missing from the photograph, and aberrations would cause distortions. Since this approach was extremely inconvenient, I was looking for a more convenient way of taking microphotographs.
There is also a way to take microphotographs using brand-name products offered by microscope manufacturers. However, their price is high and since they cannot be mounted on an as-needed basis, I was concerned that they would be inconvenient to use. I did not want to use anything but our current setup.
This was when I discovered Digital Catch. It is offered as a WiFi model and a USB model, and I decided that the WiFi model, which allows use without wiring, would be our best choice.
This is not a tool that we use on a daily basis, but it is useful when needed. Digital Catch can be mounted only when needed, allowing us to shoot what we see through the microscope. Precisely because we use it only occasionally, this ease of use is important to us.
The fact that it allows us to easily share images is a major merit
Our customers sometimes come visit us at the factory. At such times, we display the microscope image on an iPad to show them.
This way we don't have to make customers use a microscope, an operation they are not used to. Being able to shares images allows us to make slightly more refined presentations (laughs).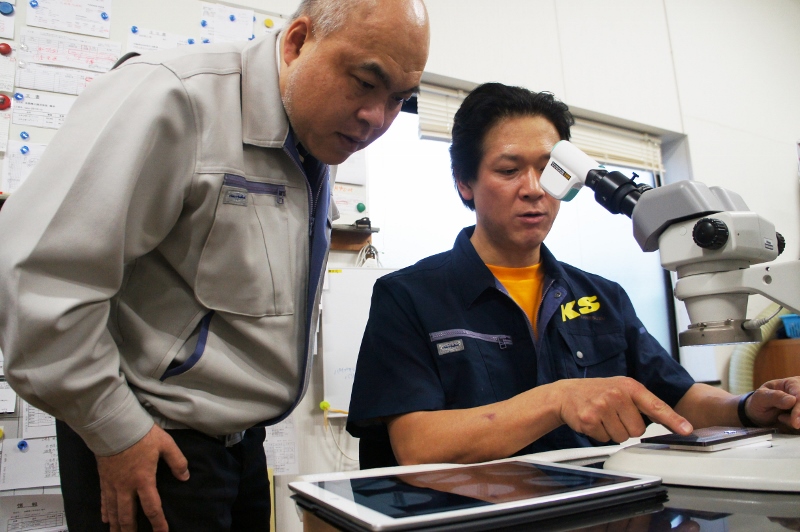 However, while this is fine for general use, unfortunately this cannot take the place of visual inspection. The staff can get a feel of parts as they look at them through a microscope. "Feel" is an ambiguous expression, but refers to subtle variations, such as light being reflected in a slightly different way, or the appearance being somehow different than usual. Defective parts cannot be identified just based on such trivial impressions, but conveying such impressions to the operators in the manufacturing section can lead to improvements before defects occur.
In the process of manufacturing a huge number of parts, this has become our style. Subtle variations on that level cannot be perceived unless one sees the object with one's own eyes through the lens of a familiar microscope.
The utility of Digital Catch lies in the fact that it allows easy sharing of images with several people. Staff who notice variations during inspections can take easy-to-understand microphotographs for sharing with others.
At exhibitions and the like, we may also be able to show everyone the accuracy of our work, which we are highly confident about.
A few words from Muramatsu from MIRUC OPTICAL
The WiFi model of Digital Catch is battery powered and can run only for two and a half hours on a single battery charge. On the other hand, no cables are required and it can be used by just mounting it to the eyepiece.
The USB model does not operate on a standalone basis, but it can be powered by a PC by connecting a cable. The simple measurement software supplied with Digital Catch allows various measurements including distance, angle, and R.
When we asked Kanesuzu Precision about what they use Digital Catch for, we got the impression that rather than use it for long hours on end or for measuring objects, they favor its use for determining defects and burr based on appearance. We believe also that it was President Suzuki who chose the WiFi model for its ease of operation.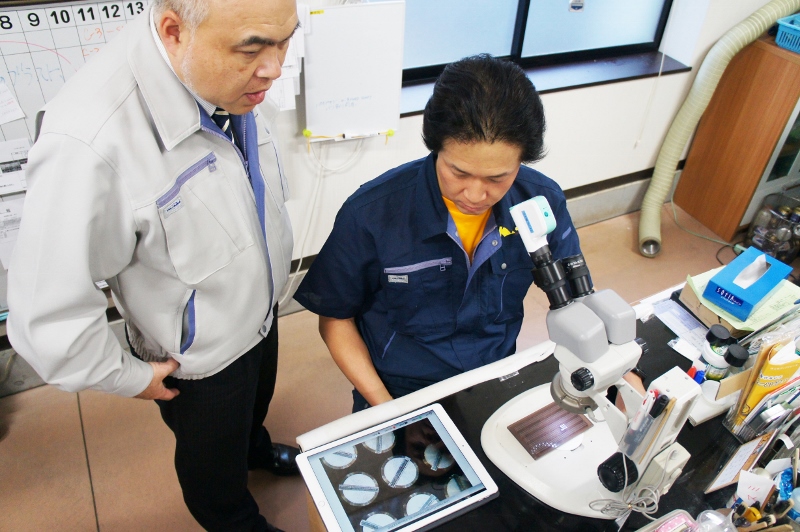 Kanesuzu Precision Co., Ltd.
Address: 7-52 Nagabuchi, Ome-shi, Tokyo
TEL:0428-24-2205
Mail:info@kanesuzu.co.jp
URL:https://www.kanesuzu.co.jp/
By means of precise automatic turning machines, for grinding of precision components and the mass production of small diameter parts (φ3 or less), Kanesuzu Precision Co., Ltd. will certainly comply with your request with the greatest care as an expert group.