Search by drive type
Search by product category
Feature
Dovetail stages, often referred to as "XY stages," are slide units used for a variety of positioning applications, from on-site work to equipment installation.
The smooth and smooth sliding performance, free from dovetailing and rack play, is achieved by carefully assembling each unit using craftsmen's sliding techniques.
They are widely used as standard parts for positioning applications in the factory automation field and other fields, and as machine element parts for jigs and tools.
Used as a standard positioning component in FA and other industrial fields, it is also widely used as a machine element part for tooling, etc.
Miruc dovetail stages are protected by a variety of patents, design rights, trademarks and other intellectual property rights. Beware of imitations.
Feature 1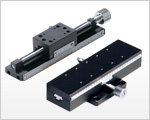 Excellent load bearing properties in surface contact mean the device is ideally suited for rapid, long stroke action. Rack and pinion and feed screw types are available.
Feature 2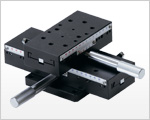 A high degree of freedom in switching combinations of different stages allows a wide range of arrangements.
Feature 3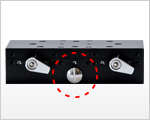 Rack and pinion devices have always been fitted with our traditional pre-load adjustment functionality, allowing fine tuning of the sliding action.
Feature 4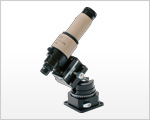 The combination of measure scopes and Image Recognition Lenses allows a further improvement in convenience.
Examples of combination with optical systems
・It is further possible to improve the user-friendliness by combining measuring scope or image recognition lens and dovetail stage (XY stage) and it can be moved scope unit and lens with a high accuracy in directions that are difficult to achieve with a normal stand. In addition, it will be effective in the area where the installation space is limited because it is very compact.
・"Arm bracket" and "Set base" are used to connect measuring scope, image recognition lens and dovetail stage (XY stage). We have various products according to the products to be combined. In addition, we can also manufacture special order parts according to the users' request. Please feel free to contact us if you would like to use dovetail stage (XY stage) with such a combination.