Skeleton stage
This Skeleton stage is the optimal slide unit for applications where convention metal dovetail stages are unsuitable due to their weight, the gas they produce during anodizing, and the risk that grease contamination may cause their slides to stick.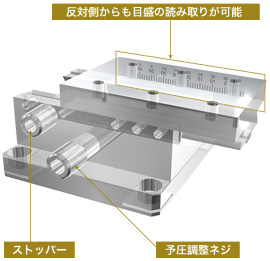 Greaseless

The self-lubricating properties of the acrylic plastic mean smooth slide operation without the need for lubricating grease – allowing maintenance-free use in dusty or highly humid environments.
Corrosion
resistant

The all-plastic construction allows the skeleton stage to be used in fresh or saltwater environments without the risk of corrosion.
Nonmagnetic

The all-plastic construction makes the skeleton stage ideal for applications where a magnetic field would be undesirable.
Weatherproof

The Skeleton stage can be used outdoors or underwater, in freshwater or saltwater environments.
Lightweight

The Skeleton stage is less that half the weight of a comparable aluminum stage.
Skeleton stage
color variations

Select from our range of attractive color variations to indicate application risk or importance.
Model
Stage surface
(mm)
Travel
(mm)
Travel
per rotation
(mm)
Travel precision (μm)
Load
capacity N
(kgf)
Minimum scale reading
(mm)
Weight
(kg)
Straightness
Degree of parallelism during operation
SK-60C
SK-60R
SK-60B
SK-60Y
40 x 60
± 21
18
30
30
19.6 (2.0)
0.1
0.11
* Materials: acrylic, polycarbonate, polyacetal
Comparison data of the sliding performance
| | Grind | Uneveness | Gap | Backlash | Play |
| --- | --- | --- | --- | --- | --- |
| MIRUC products | ◎ | ◎ | ◎ | ◎ | ◎ |
| Overseas product | △ | × | △ | × | × |
The product which poor in precision, you may feel a strangeness in operation of full stroke with sliding the stage from the side by side. The feeling of operation depends on individuals.

■Grind
"Strange feeling, vigorously scratching something when turning the handle.No smoothness.
Many cases occur when lightened harder together between the rack and pinion."
■Unevenness
For all strokes gets heavier or lighter for unevenness.
Many cases occur when weak tightening between the rack and pinion.
■Gap
Sliding the stage to one side makes the feeling as if the stages are scratched and becomes heavy.
When sliding it on the opposite side makes it feels lighter.
■Backlash
The play between male/female dovetail groove parts.
■Play
The gap between the contact face of gear that is intended to be provided in the direction of movement. By suppressing this gap as much as possible, smooth sliding without backlash.