Miruc products are protected by intellectual property rights guaranteeing amongst others, patent rights, design rights and trademark rights. Beware of imitations.
Feature1 High accuracy,30% to 50% price reduction is achieved.
A significant price reduction was achieved by reducing the number of components and assembly man-hour. The quality is MADE IN JAPAN!
Miruc Optical original product with patent and design right. (Acquisition of international patent is on-going) OEM supply and special order is also accepted.
Feature2 
Thin, light weight and fast-slide movement operationability is exceptional.
With thin specification wherein the square shape type has a thickness of 15mm, rectangularshape and slim long type has rectangular shape and slim long type has a thickness of 20mm. Weight is reduced by 30 % to 40 % compared to conventional models,with simple and rapid sliding operation.

Feature3 Handle-less and tool-less new concept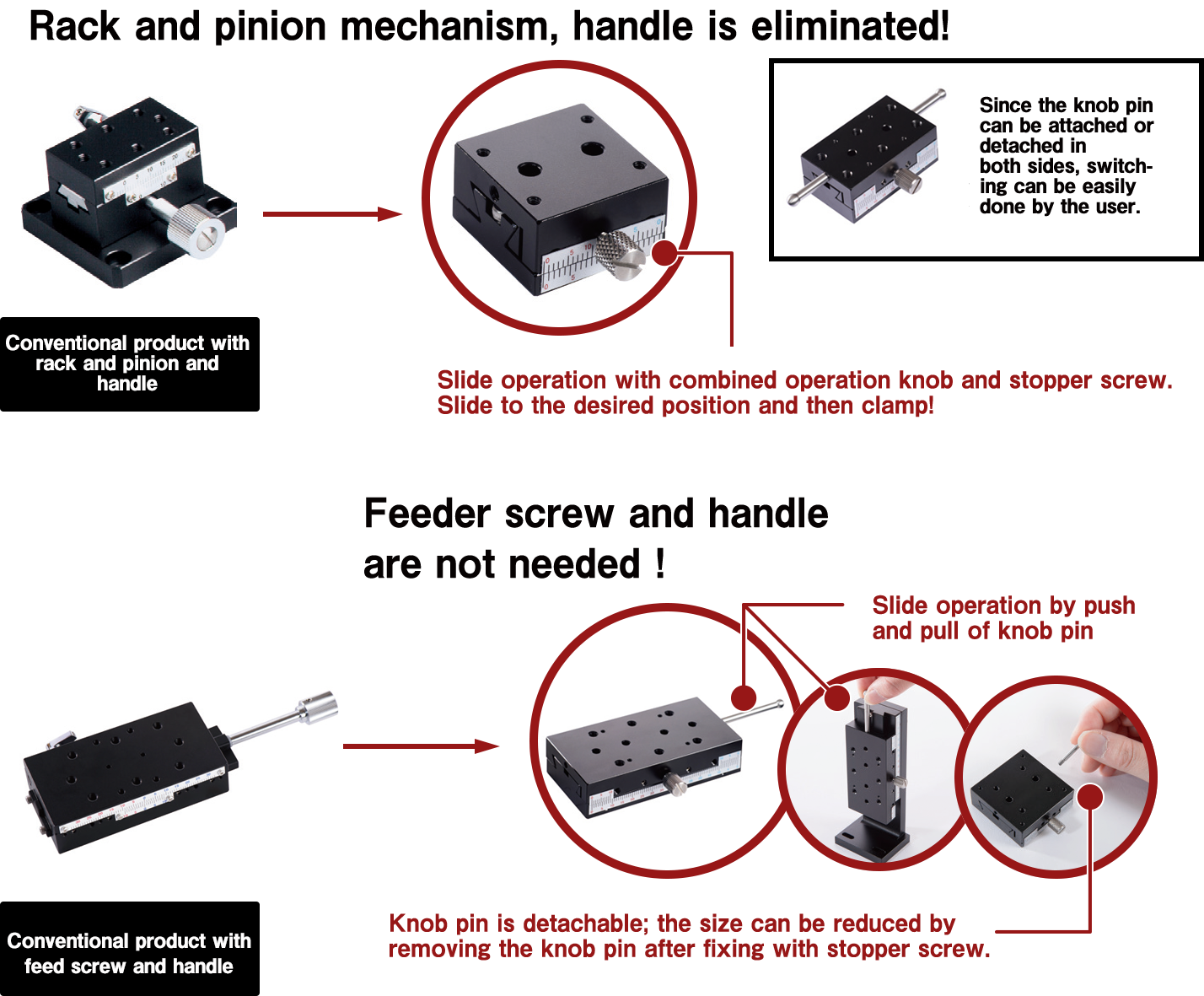 Feature4 
Sliding block can be installed at both sides,front and back

Unlike conventional dovetail stages, since the sliding block is detachable, work or jig can be installed from the back side of the sliding block.
Feature5 Ideal for integration into inspection apparatus, etc.
Initial positioning fine-adjustment using this stage is conducted in the inspection equipment etc. and it can be almost continuously used as it is in a certain condition after fixing with stopper screw. Usually, only a slight fine adjustment is conducted in actual. This product group is ideal to this application, with easy operation and significant price reduction, it contributes to the improvement and cost reduction of the operation process of equipment industry etc.
X axis Slide operation dovetail stage
Model
Stage surface
(mm)
Travel
(mm)
Travel precision (µm)
Load capacity N (kgf)
Minimum
reading of
scale (mm)
Weight
(kg)
Straightness
Degree of
parallelism during
operation
Horizontal
vertical
XMA25
25 × 25
± 6
20
30
29.4(3)
9.8(1)
0.1
0.023
XMA40
40 × 40
± 12
30
30
29.4(3)
9.8(1)
0.1
0.060
XMA60
60 × 60
± 21
30
30
39.2(4)
19.6(2)
0.1
0.132
XMA30-50
30 × 50
± 17
30
30
29.4(3)
14.7(1.5)
0.1
0.076
XMA40-80
40×80
±32
30
30
39.2(4)
19.6(2)
0.1
0.163
XMA50
25×40
±15
30
30
29.4(3)
14.7(1.5)
0.1
0.058
XMA90
25×40
±35
30
30
29.4(3)
14.7(1.5)
0.1
0.084
XMA120
25×40
±50
30
30
29.4(3)
14.7(1.5)
0.1
0.105
XMA150
25×40
±65
40
40
29.4(3)
14.7(1.5)
0.1
0.124
XMB25
25×25
±6
20
30
29.4(3)
9.8(1)
0.1
0.024
XMB40
40×40
±12
30
30
29.4(3)
9.8(1)
0.1
0.061
XMB60
60×60
±21
30
30
39.2(4)
19.6(2)
0.1
0.133
XMB30-50
30×50
±17
30
30
29.4(3)
14.7(1.5)
0.1
0.078
XMB40-80
40×80
±32
30
30
39.2(4)
19.6(2)
0.1
0.166
*Material: Stage's main unit: Aluminum alloy, Surface treatment: Satin black anodized aluminum
XY axis Slide operation dovetail stage
Model
Stage surface
(mm)
Travel
(mm)
Travel precision(μm)
Load capacity N
(kgf)
Minimum reading of
scale
(mm)
Weight
(kg)
Straightness
Degree of parallelism during operation
XYMA25
25 × 25
± 6
20
30
27.4(2.8)
0.1
0.047
XYMA40
40 × 40
± 12
30
30
27.4(2.8)
0.1
0.121
XYMA60
60 × 60
± 21
30
30
33.3(3.4)
0.1
0.265
XYMA30-50
30 × 50
± 17
30
30
27.4(2.8)
0.1
0.153
XYMA40-80
40×80
±32
30
30
33.3(3.4)
0.1
0.327
XYMA50
25×40
±15
30
30
27.4(2.8)
0.1
0.117
XYMA90
25×40
±35
30
30
27.4(2.8)
0.1
0.169
XYMA120
25×40
±50
30
30
27.4(2.8)
0.1
0.211
XYMA150
25×40
±65
40
40
27.4(2.8)
0.1
0.249
XYMB25
25×25
±6
20
30
27.4(2.8)
0.1
0.049
XYMB40
40×40
±12
30
30
27.4(2.8)
0.1
0.123
XYMB60
60×60
±21
30
30
33.3(3.4)
0.1
0.267
XYMB30-50
30×50
±17
30
30
27.4(2.8)
0.1
0.157
XYMB40-80
40×80
±32
30
30
33.3(3.4)
0.1
0.333
Z axis Slide operation dovetail stage
Model

Stage surface
(mm)
Travel
(mm)

Travel precision(μm)

Load capacity N
(kgf)
Minimum reading of
scale
(mm)
Weight
(kg)

Straightness

Degree of parallelism during operation

ZMA25
25 × 25
± 6
20
30
9.8(1)
0.1
0.055
ZMA40
40 × 40
± 12
30
30
9.8(1)
0.1
0.100
ZMA60
60 × 60
± 21
30
30
19.6(2)
0.1
0.250
ZMA30-50
30 × 50
± 17
30
30
14.7(1.5)
0.1
0.145
ZMA40-80
40×80
±32
30
30
19.6(2)
0.1
0.306
ZMA50
25×40
±15
30
30
14.7(1.5)
0.1
0.095
ZMA90
25×40
±35
30
30
14.7(1.5)
0.1
0.122
ZMA120
25×40
±50
30
30
14.7(1.5)
0.1
0.142
ZMA150
25×40
±65
40
40
14.7(1.5)
0.1
0.179
ZMB25
25×25
±6
20
30
9.8(1)
0.1
0.056
ZMB40
40×40
±12
30
30
9.8(1)
0.1
0.101
ZMB60
60×60
±21
30
30
19.6(2)
0.1
0.251
ZMB30-50
30×50
±17
30
30
14.7(1.5)
0.1
0.147
ZMB40-80
40×80
±32
30
30
19.6(2)
0.1
0.308
*Material: Stage's main unit: Aluminum alloy, Surface treatment: Satin black anodized aluminum